On March 21, 2007, Microsoft announced that it would separate its search developments from the Windows Live services family,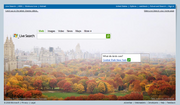 rebranding the service as Live Search. Live Search was integrated into the
Live Search and Ad Platform
headed by Satya Nadella, part of Microsoft's Platform and Systems division. As part of this change, Live Search was merged with Microsoft adCenter.
A series of reorganisations and consolidations of Microsoft's search offerings were made under the Live Search branding. On May 23, 2008, Microsoft announced the discontinuation of Live Search Books and Live Search Academic and integrated all academic and book search results into regular search, and as a result this also included the closure of Live Search Books Publisher Program. Soon after, Windows Live Expo was discontinued on July 31, 2008. Live Search Macros, a service for users to create their own custom search engines or use macros created by other users, was also discontinued shortly after. On May 15, 2009, Live Product Upload, a service which allowed merchants to upload products information onto Live Search Products, was discontinued. The final reorganisation came as Live Search QnA was rebranded as MSN QnA on February 18, 2009, however, it was subsequently discontinued on May 21, 2009.
Microsoft recognised that there would be a brand issue as long as the word "Live" remained in the name. As an effort to create a new identity for Microsoft's search services, Live Search was officially replaced by Bing on June 3, 2009