September 1
Edit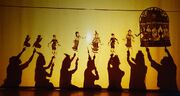 You can find these performers at the Sovanna Phum Theatre in Phnom Penh, Cambodia.  What else can you find in Phnom Penh?
Shadow plays are a traditional art form here in Cambodia, as well as in other Asian nations.  Learn about shadow plays
What are these people doing?  Watch and find out
Phnom Penh is famous for its art, its architecture, and its educational institutions.  Where is it?
September 2
Edit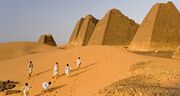 These pyramids mark the ruins of Meroë, southern capital of the great Kushite Kingdom in the Nile Valley. Learn about the lost city of Meroë
Known as Nubian pyramids, these monuments have a style and shape that is distinct from their Egyptian relatives. See more of the Meroë pyramids.
You might not know that Sudan is home to archeological treasures and ancient wonders.  Tour the Meroë pyramids and see for yourself
The 25th dynasty of ancient Egypt retreated to Meroë around 600 BC, where it influenced culture for 1,000 years.  Where is it?
September 3
Edit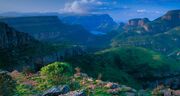 The Blyde River Canyon may not be as big as the Grand Canyon, but it is just as impressive. Learn more about it
You don't have to go all the way to South Africa to explore the Blyde River Canyon. Be an armchair explorer, instead
The Zulus call this mountain range uKhahlamba, which means "Barrier of Spears." Others call it the Drakensberg Escarpment
This majestic landscape stretches from south to north across at least five South African provinces. Where is it?