October 1
Edit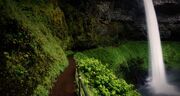 What government organization cleared trails and built facilities here that today's tourists still enjoy? Does CCC sound familiar?
Could you find your way home if you got lost in the woods?  It's never too late to learn
You can walk behind four of the ten waterfalls that give the Trail of Ten Falls its name.  The trail runs for miles through Oregon's largest state park
This waterfall plunges 177 feet from the cliff top to the pool below.  Where is it?
October 2
Edit
This city's armies once conquered most of Asia Minor and brought them under the rule of the governess Zenobia.  Where did she live?
You might feel a little overwhelmed by the thought of traveling in this exotic land. But Peter Marshall will help you
Civilization in this part of the world stretches continuously from the present day back to the Stone Age. Learn more about this venerable place
This city lies at the midpoint between the Mediterranean Sea and the Euphrates River. Where is it?
October 3
Edit